Cadott, Wisconsin
The small town of Cadott, northeast of Eau Claire, Wisconsin, is proud of its history as a trading post and lumber center, as well as its location just south of the 45th Parallel. At the city park a large billboard declares Cadott's place in the midst of the larger universe. The enormous globe and swooping arrow on the billlboard are wonderfully dramatic and a vivid illustration for all citizens and visitors.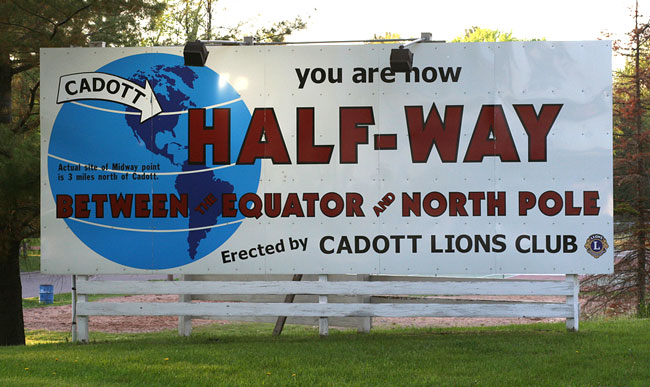 you are now
HALF-WAY
Between the Equator and North Pole
(Actual site of Midway point is 3 miles north of Cadott)
Erected by Cadott Lions Club
Thoughtfully the Cadott Lions have added a caveat for geographic perfectionists which notes that the actual half-way point lies 3 miles north of town. Travelling north on Highway 27 to about 110th Ave we encounter an inconspicuous street sign.
Though at first glance it seems to be the enticing intersection of two streets named 45th Parallel Avenue & Geographical Marker Boulevard, it is literally a geographical marker at the 45th parallel. Technically the 45th parallel is not the midway point between north pole and equator, due to the distorted shape of the earth, but this sign simply notes the point where the line of 45° N latitude meets Highway 27.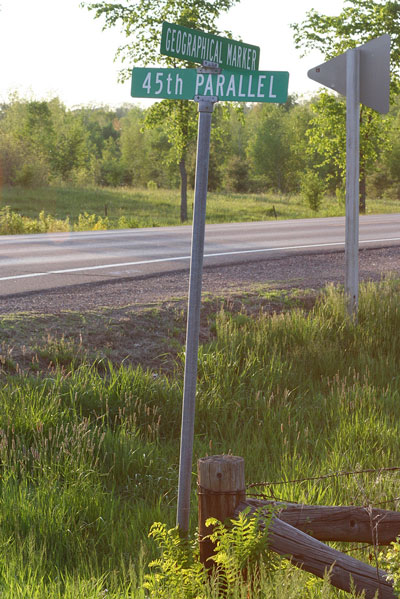 Thanks to Heather Holbus for providing these photos of Cadott.
View 45th Parallel Markers in Google Maps

Copyright ©2016 Matt Bergstrom - photos ©Heather Holbus