Cairn Highway, Elk Lake, Michigan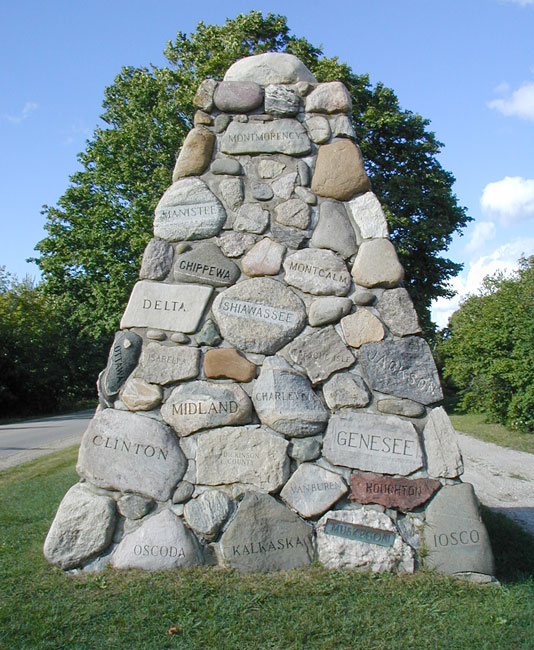 Near Elk Lake, Michigan, in a wayside park is one of the most unusual 45th Parallel monuments. It is a rock cairn built in 1938 as a tribute to Hugh J. Gray, the founder of an early state tourism association. The monument is a polylith made of boulders from each of Michigan's 83 counties, with the source of each contribution engraved on its face, so you can find your favorite. Its difficult to tell why the marker is placed along this quiet road, or what the symbolism of the boulders might have to do with 45th Parallel.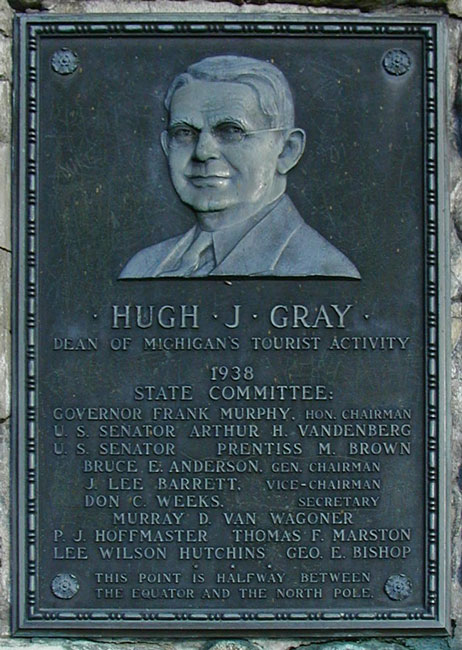 Hugh J. Gray
Dean of Michigan's Tourist Activity

1938 State Committee: Governor Frank Murphy, Hon. Chairman; U.S. Senator Arthur H. Vandenburg; U.S. Senator Prentiss M. Brown; Bruce E. Anderson, Gen. Chairman; J. Lee Barrett, Vice-Chairman; Don C. Weeks, Secretary; Murray D. Van Wagoner; P.J. Hoffmaster; Thomas F. Marston; Lee Wilson Hutchins; Geo E. Bishop

This point is halfway between the Equator and the North Pole.
From the south, follow the Old Cairn Highway at the east end of the town of Elk Rapids. Follow this road for a number of miles. When passing through the town of Elk Lake, note that the Cairn Highway takes a bend to the left, don't get lost!
See this point on Google Earth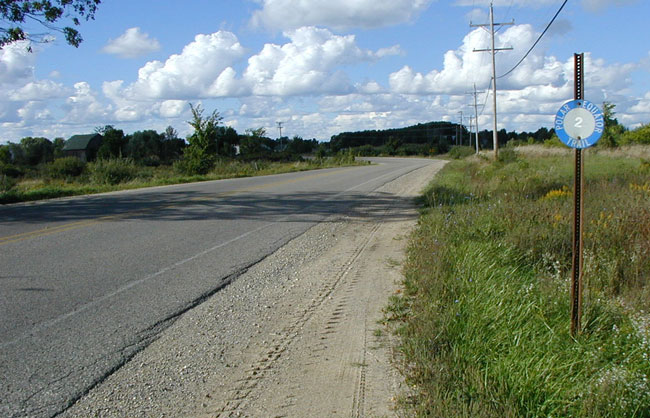 Coming from Torch Lake from the north, follow the signs for the "Polar Equator Trail" as you head toward Elk Lake. Continue on the Cairn Highway for another mile or two to the wayside on the right side of the road. The Polar Equator Trail was designated in the late 1960s to follow the path of the 45th Parallel as it crosses Michigan. Here in the photo we are 2 miles from the trail's western terminus.
---
Apparently, the cairn is not located exactly on the 45th Parallel, because several miles north of the wayside there is another sign along U.S. 31: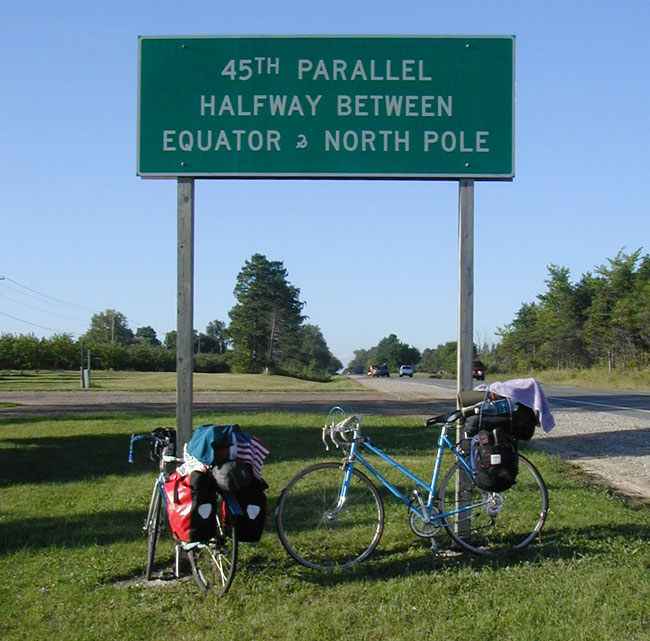 45th Parallel
Halfway between
Equator & North Pole
---
The old rock cairn is famous in its own obscure way. Look! Here it is on a bottle of cherry juice I found at a fruit stand on Highway 31 near the parallel.

The lands near Lake Michigan are dotted with many orchards, taking advantage of the big lake's moderation of temperature extremes, which protects the fruit trees from early frosts and summer heat. Apples, grapes and blueberries are grown south of here, but the area around Traverse City is famous for its cherries. This bottle of Cairn Side Juice was delicious!
View 45th Parallel Markers in Google Maps