Sala Kaew Ku - Nong Khai, Thailand
Wat That, Muang Nong Khai, Nong Khai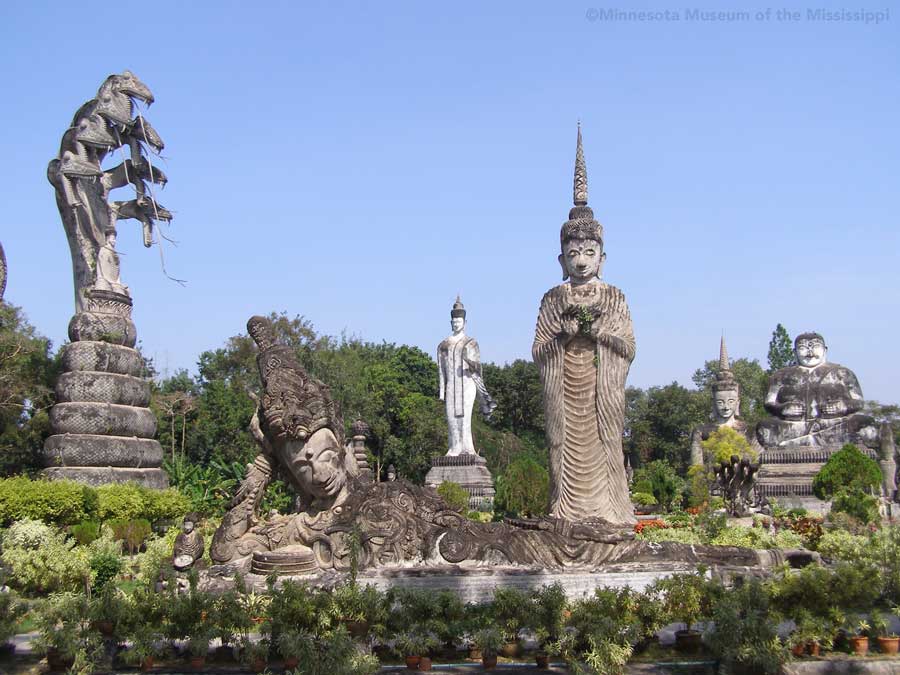 Luang Pu Bunleau Sulilat was a spiritual leader who rose to prominence in Laos in the 1950s. Unlike so many young men in Laos, he was not trained as a Buddhist monk, but took his inspiration from Hindu and folk traditions as well. In time he had attracted many followers and decided to build a sculpture park to explain his philosophy in a concrete manner. In 1958 he began building concrete religious sculptures on a large scale on land outside Vientiane. During the communist revolutions however, he was imprisoned for several years and eventually fled the country in 1975. Not far across the border from his previous home, he found land for a new sculpture park outside Nong Khai, where he started working again.
The center of Sala Kaew Ku (or Sala Keoku) is a three story "sala" or meditation hall, but the extensive park-like grounds around it are densely populated with sculptures made from brick and concrete which illustrate Buddhist and Hindu mythology and legends. A highlight of the park is a complex representation of the Wheel of Life, where visitors enter a narrow tunnel mouth to a long womb and are born into a circular area where the timeline of life's events are depicted in a clockwise direction, ending in a scene where the Buddha helps a man and woman step over the wall to escape the cycle of rebirth.
Luang Pu worked on the sculptures by himself at first, but as his health failed, his followers completed them under his direction, as they carted him about in a wheelbarrow to oversee the construction. In the upper floor of the sala pavilion there is a shrine to his memory, where his mummified body lies in state under a glass dome surrounded by flowers and winking lights.