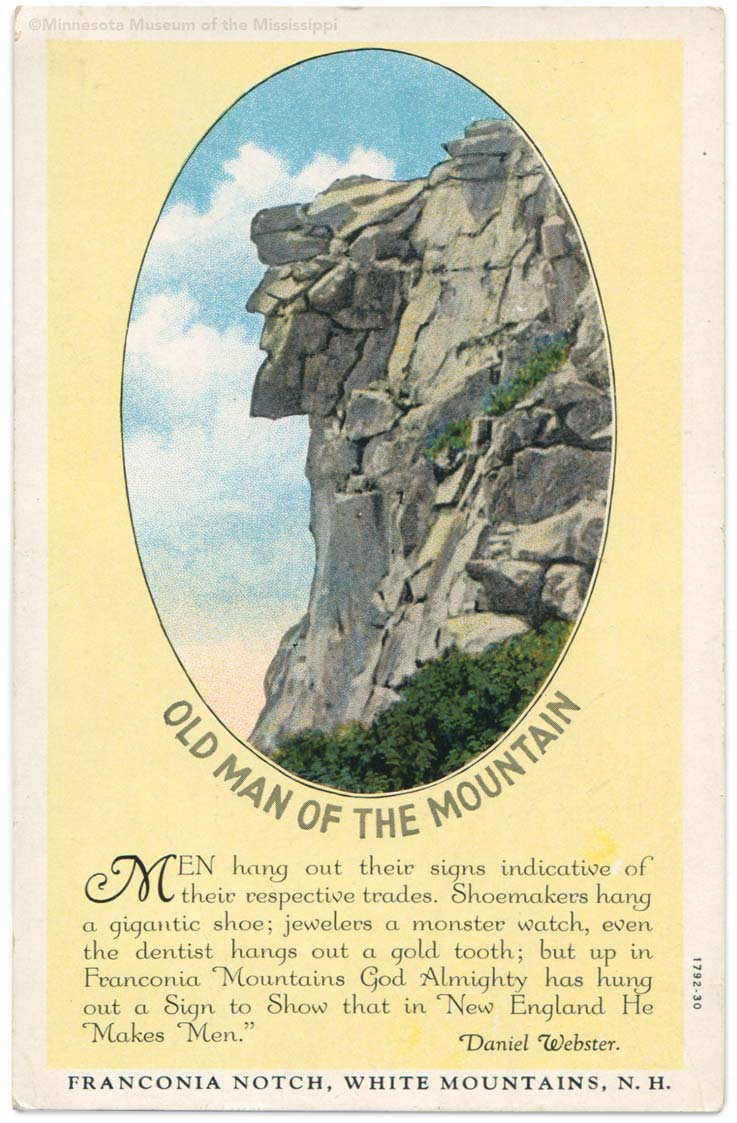 Obverse:
Old Man of the Mountain
MEN hang out their signs indicative of their respective trades. Shoemakers hang a gigantic shoe; jewelers a monster watch, even the dentist hangs out a gold tooth; but up in Franconia Mountains God Almighty has hung up a Sign to Show that in New England He Makes Men."
Daniel Webster
Reverse:
THE OLD MAN OF THE MOUNTAIN. FRANCONIA NOTCH, N.H. The most perfect natural stone face in the world, called also "The Profile," the "Great Stone Face" of Hawthorne's story. Forty feet high. On the south end of Cannon Mountain. 1,200 feet above the ever beautiful Profile Lake.
Publisher:
American Art Post Card Co., Boston, Mass. / Curteich, Chicago
MNM#01-01071
The most famous of all rock faces, which sadly collapsed on May 3, 2005.
Popularized by Nathaniel Hawthorne in his short story "The Great Stone Face." It is New Hampshire's state symbol, reproduced on quarters, licensce plates, stamps, decorative china, and hundreds of postcards. Trail directions at www.gorp.com.

N 44° 09.632', W 71° 41.001'
Other views of this formation: