---
Fountain City, Wisconsin
North Street, Fountain City, WI (removed 2007)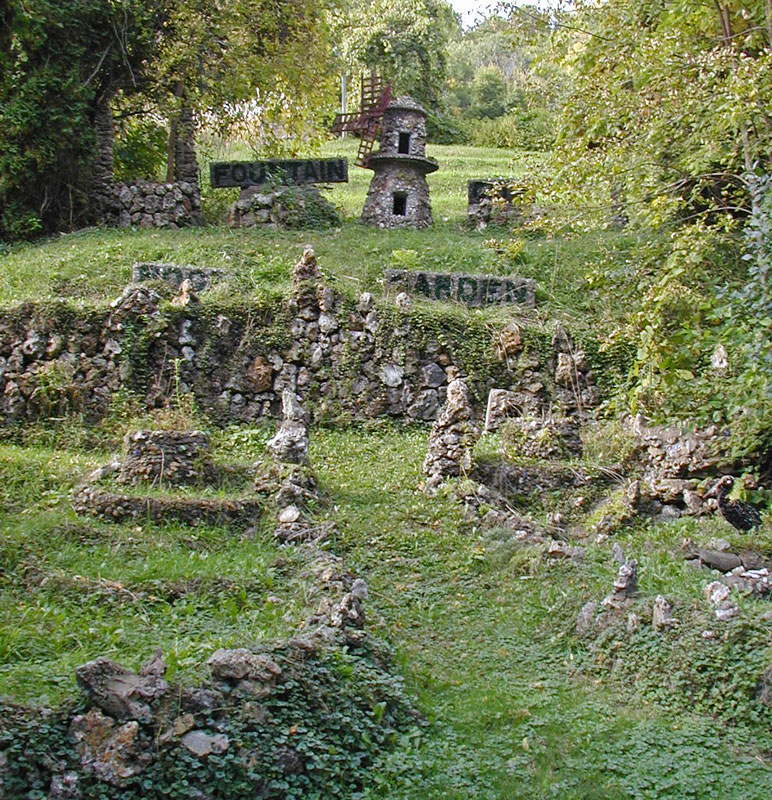 Fountain City is a picturesque little town along the Mississippi River north of LaCrosse. There isn't much space here between the wide river held back at the edge of town by Lock & Dam 5A and the rocky bluffs above, just a few blocks of steep streets squeezed in between. With mighty Mississippi floods on one side and occasional falling rocks on the other (see the local tourist attraction Rock in the House), this doesn't seem a likely place to build a town.
On a steep lawn on Jefferson street, John and Bertha Mehringer built this terraced rock garden between 1933 and 1935. The site is a bit overgrown but it still possible to see most of the structures from the sidewalk below. The garden is not open to the public.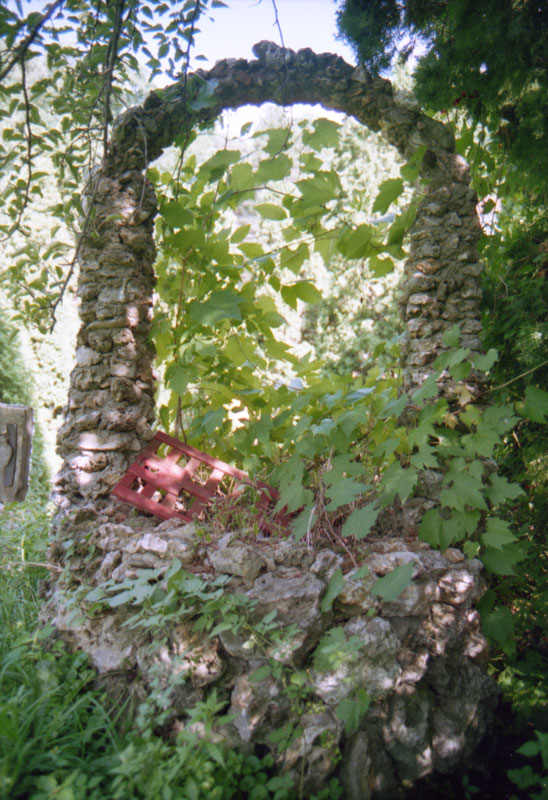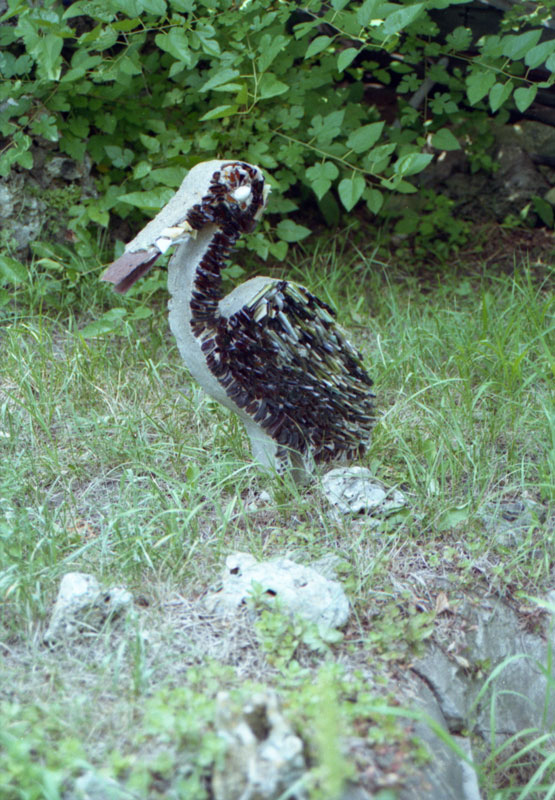 There are several rock walls, a windmill, an archway, a birdhouse, a glass-embedded stork, a tiny bridge over a moat and a few structures that are too overgrown and fallen down to easily identify.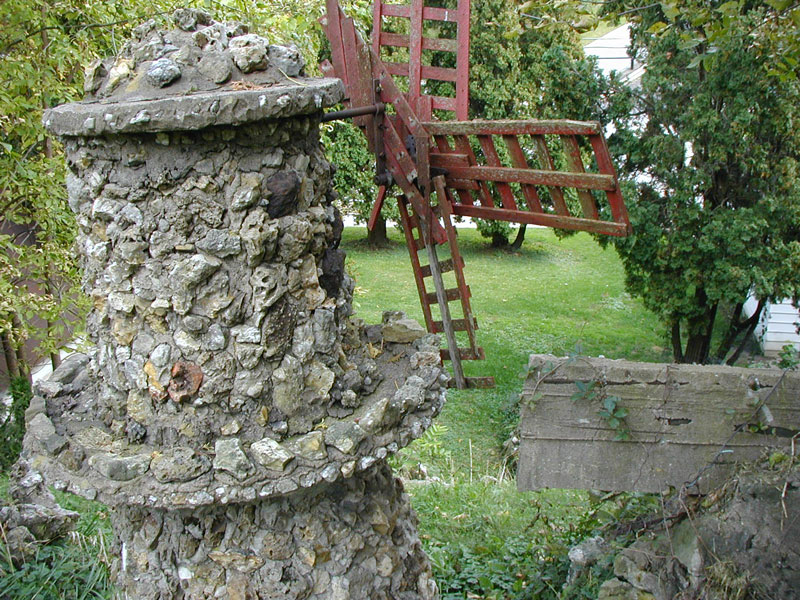 The most elaborate decorative glasswork can be seen on the pillars that once formed a gate to the garden. On a background of clear glass, green vines wind upward sprouting vibrant blue flowers.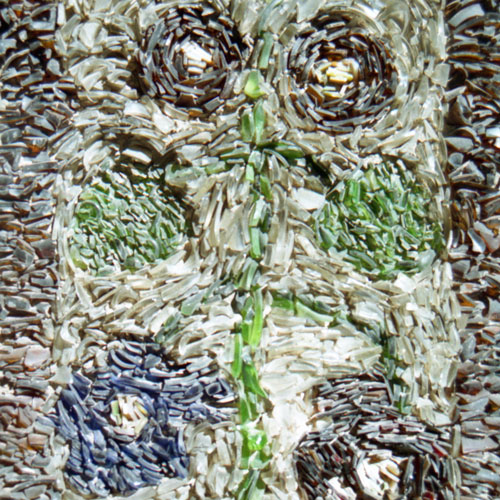 Stone and Zanzi speculate that the Mehringers were inspired by the Wegner Grotto, and here the decorative style does seem similar. It looks as if this pillar was built of flat concrete panels in the same way that the Wegners constructed most of their garden ornaments.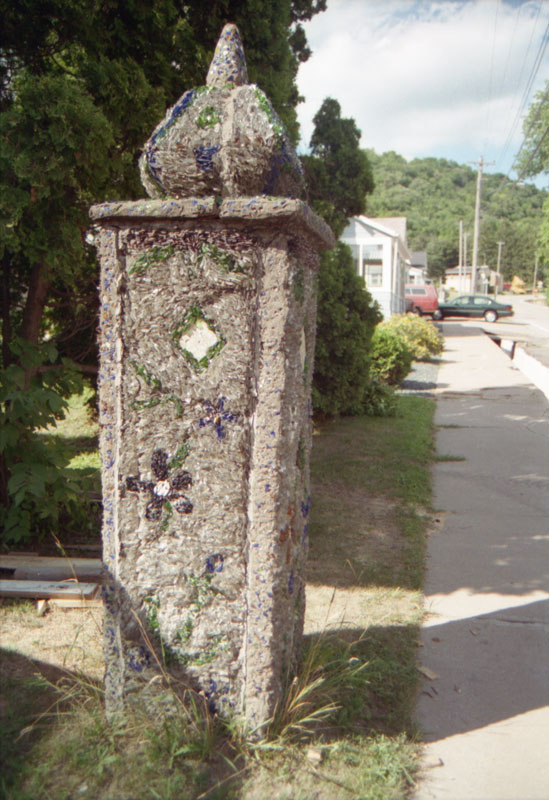 The Fountain City Rock Garden structures were removed from the hillside in 2007 and relocated to a nicely landscaped area next to the Prairie Moon Museum.
References and Links to the Fountain City Rock Garden
presented by Minnesota Museum of the Mississippi
---
Copyright ©2012 Matt Bergstrom