---
River Falls, Wisconsin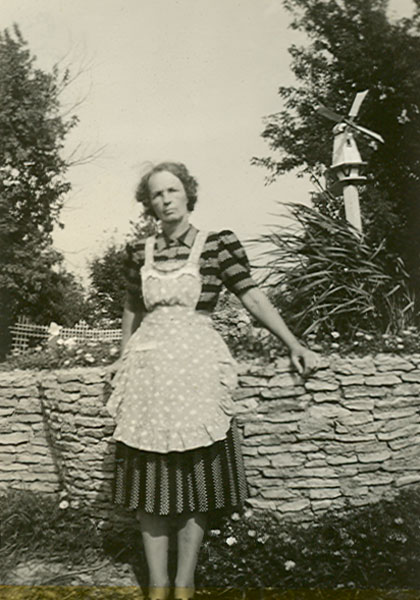 photo courtesy Richard Moldenhauer
Inspired by the nearby Wegner Grotto, 48-year old farm wife Mollie Jenson decided to build a tourist attraction of her own. She had always loved animals and acquired numerous family "pets" of all kinds, so in 1938 she opened a small zoo at her farm. Her collection eventually grew to around 150 creatues, some domestic farm animals, somewild orphans, some exotic species given to her by other zoos and circuses. She showed off everything from donkeys, raccoons and badgers to monkeys, peacocks, a bear and a lion.
In addition to running a farm with her husband Obert and raising for six children, Mollie Jenson made quilts, latchhook rugs, wood carvings, paintings and drawings. So she opened a museum of her artwork to show off her creations. Then she began work on yard decorations, beginning with a 10-foot tall windmill encrusted with quilt-like pictures and colorful designs.
After visiting the Dickeyville Grotto, she built several open-sided concrete and glass shelters to house dioramas of her artwork, taxidermy and paintings. There was a sheltered diorama called the Art Exhibit, its curved wall and lyre scrollwork very much like the Patriotism Shrine at the Dickeyville Grotto. And another structure known as The Fireplace, which Jenson enlarged into a open-sided pavilion like a small stage set decorated with broken glass.
Legend
Flower Planter
Rock Garden
Wishing Well
Fish Pond
Ferris Wheel Flower Box
The Art Exhibit was dismantled in the late 1970s.
References and Links to Mollie Jenson's Art Exhibit
Many thanks to Richard Moldenhauer for sharing vintage family photos of his grandmother's handiwork.
presented by Minnesota Museum of the Mississippi
---
Copyright ©2012 Matt Bergstrom