Stack of Two Pancakes
Four Corners Restaurant
336 Main St.
Bennington, Vermont
(closed 2001)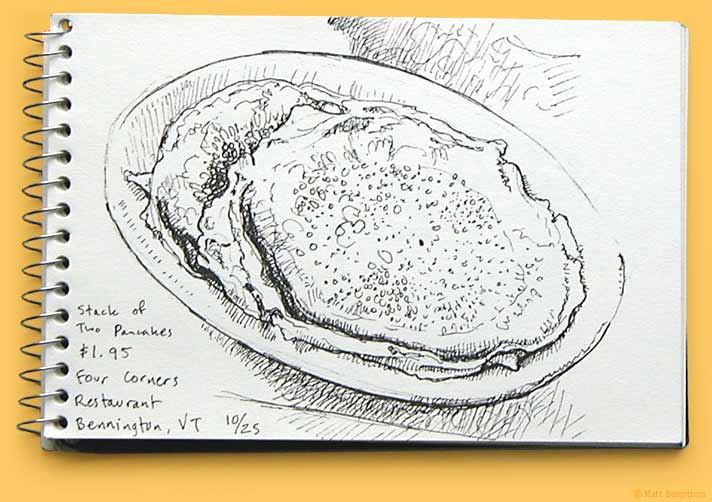 The little restaurant just a few doors down from the "Four Corners" intersection at the heart of Bennington got its start after the old Cottage Hotel burned down in December 1919. John & Mary Leahy had only bought the hotel a year earlier and were newly married. Rather than rebuild, they brought a lunch wagon to the site to continue dining service at a time when there were only four eateries in Bennington. Business was sucessful enough to build a permanent restaurant in 1923 which theLeahy's named the "American Coffee Shop." The little cafe even made it into a New Yorker "Talk of the Town" tidbit in 1940 mentioning the encyclopaedia set kept behind the counter for settling arguments among patrons.
John Leahy passed away in 1956. Mary continued running the cafe until selling it to Clayton & Margaret Daigneault in 1962. Several years later Stanley Miller took over the ownership, though the coffee shop eventually closed in 1972. After sitting empty for two years, Patrick Radford reopened it as "Paddy's Restaurant", which lasted three years. For a brief time around 1979 it was "Yoshi's Japanese Restaurant". The "Bennington Coffee Shop" lasted longer, from 1981 to 1991, followed by "Ye Olde Italian Coffee Shop."
"Four Corners Restaurant" opened in about 1993 under the ownership of Stephen Levine and continued until about 2001. The little 25-foot wide storefront with its long culinary history was eventually demolished and opened in 2019 as a "pocket park" with stone paving, park benches and a small bed for flowers and decorative trees.