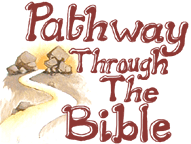 ---
Mount of Temptation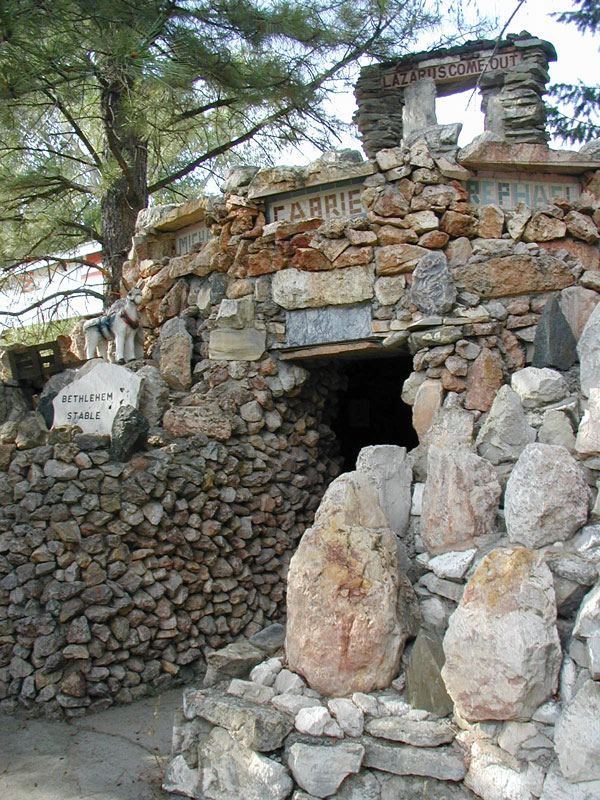 The largest rock construction in the entire garden is the Mount of Temptation. Or at least, part of it goes by this name. The Mount does double-duty for a number of themes and is crowded with symbols and inscriptions, inside and out. At the west end, an entrance to the mountain leads us into a cave representing the Stable at Bethlehem (note the small donkey on the left). Above the doorway, are the names of the angels Michael, Gabriel and Raphael reminding us of the Annuciation. And crowded in above them is a solitary stone representing poor Lazarus staggering forth from his rocky tomb under the banner "Lazarus Come Out"!!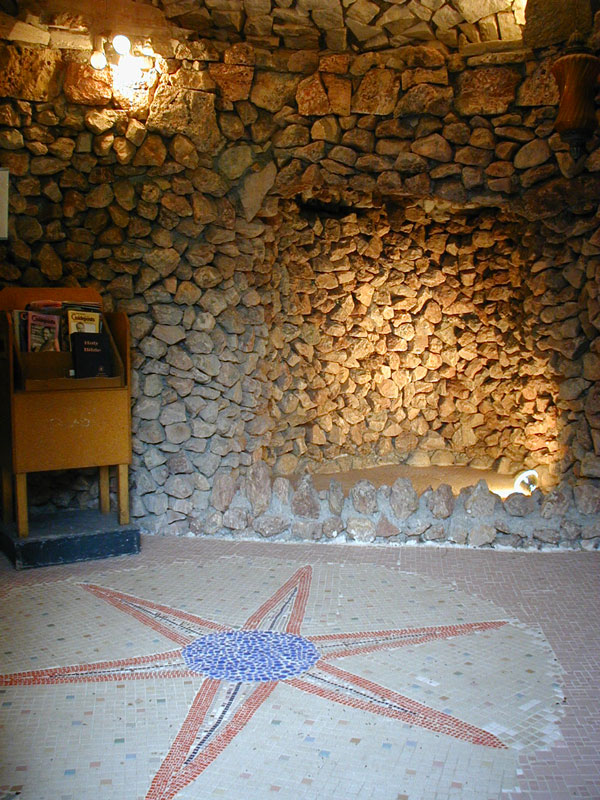 Inside the cave of the stable, we see a crude mosaic star representing the star of Bethlehem and a fantastic domed grotto ceiling of crystaline rocks. This most impressive engineering feat in the garden was reportedly accomplished by bracing the dome with telephone poles while the cement set. In the corner are stone cast ox and ass lowing at a simple stone manger, which the guidebook proudly points out, contains a few strands of straw brought from Italy. In another corner there are copies of Guideposts and the visitor guest book.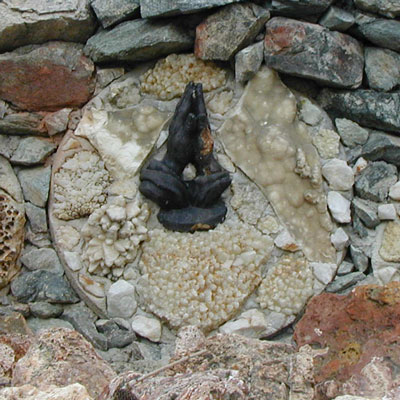 Back out in the sunlight, the middle section of the mountain represents the Mount of Temptation. Above an inhospitable wilderness of rugged granite crags, the mountain slopes up to a wall with these praying hands set in a roundel with rock crystals. According to the book Montana Behind the Scenes, these hands were a gift to Helen. Adolph wanted to place them in the garden, but Helen refused. But once when she was out of town, he took the liberty of setting them in concrete!
This photo makes clear some of the construction methods used to build the rock garden. It seems that in areas of detail, Adolph cast the smaller stones in a round mold, probably flat on the ground. When this hardened, the roundel was set in one piece among the rougher, larger rock masonry. This technique is visible in many other places in the garden such as the Egypt mosaic and the Alpha & Omega tableau.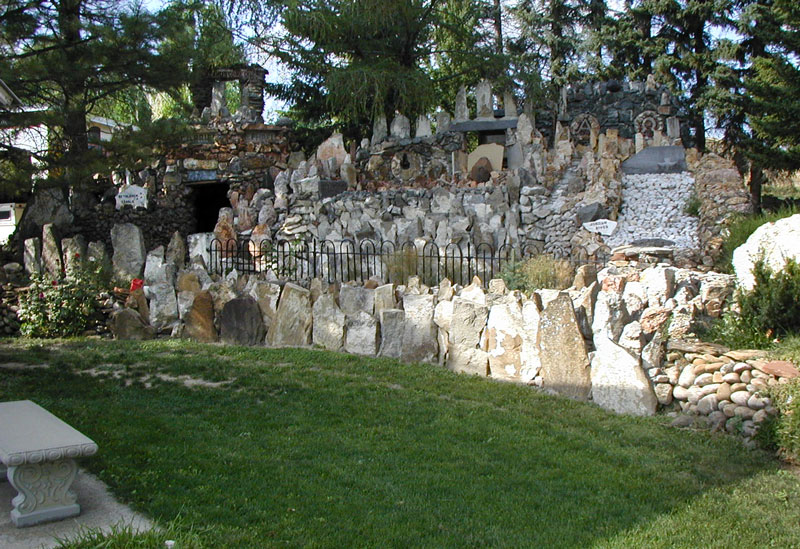 The crowded scenes along this side of the large construction are difficult to see together. Stepping back onto the lawn, we see here the Stable entrance on the left, with Lazarus on top merging into to the Mount of Temptation in the middle. On the right, smaller white rocks represent the River Jordan flowing down the roof of the Tomb, and on the very top at the right, the Alpha & Omega scene.